Lease-purchase: a definition 
Lease-Purchase, or leasing with an option to purchase, is a method of financing that allows you to benefit from the use of a pleasure craft (new or second-hand, and subject to VAT) for a period defined in the lease-purchase contract.
A leasing contract for pleasure crafts involves three parties: a supplier (boat dealer, shipyard or agent), a credit institution (lessor) and a future lessee/buyer.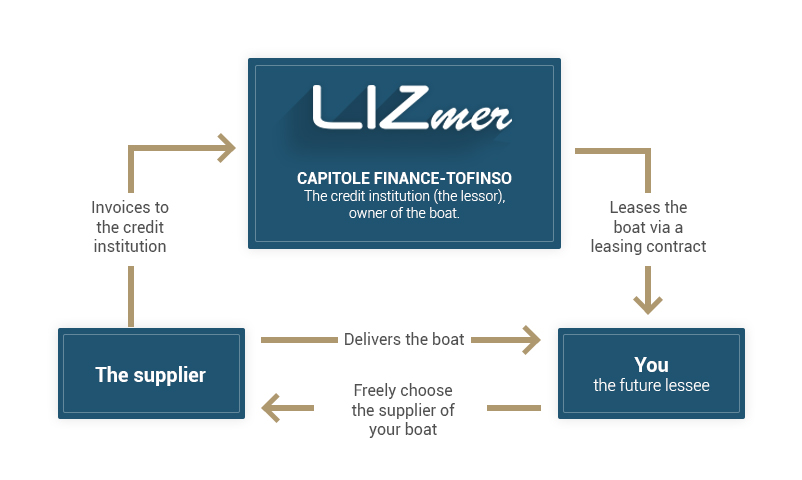 At the end of the contract, the lessee may exercise the option to purchase and thus become the owner of the boat, subject to compliance with all of his or her contractual obligations.
With LIZmer, you can finance all types of boats on leasing under French and English flags for European nationals.
Our team of marine financing specialists is at your disposal to study your plans with you and provide you with the most suitable solution for your pleasure craft lease-purchase.
For a calculation of your lease-purchase boat financing, please contact us.
Questions / Réponses
New or used boat, majestic sailboat or motor boat: discover the models of boats you can finance with a leasing.
Yes, the deposit in the form of a higher initial down-payment is obligatory as part of the Capitole Finance-Tofinso marine leasing contract for financing new or secondhand boats.
It is possible to finance a secondhand boat with a leasing if the boat is still subject to VAT.
Finance your boat lease
Receive your free and personalized financing simulation.